bottom heavy figure
The easiest way to balance a bottom-heavy figure is to choose a dress that skims over the lower half of the body. Fuller skirts, disguise heavy hips, while showing off the waist. A fitted halter or strapless silhouette -- which accents a trim upper body -- is very flattering for bottom-heavy figures. One of the classic recommendations for the bottom-heavy figure is the full skirt. It's still a great option, especially for dresses. How to make the full skirt work:

Go for a fit and flare silhouette. Draw attention to the waist with a belt, gathers, band or other feature. The skirt should flare out from the fitted waist.
Take the fit and flare silhouette one step further by opting for a strapless dress. You'll get the benefit of showing off your shoulders, while concealing your hips. Also, the strong line of bare shoulders helps balance a wider bottom half.

You can wear a fitted suit, even with a slim skirt, if you are bottom heavy. Just remember:


Keep the line long by using all one color with slim-cut pieces. It elongates and slims the figure.
Choose fitted jackets that end well above your widest point.
Wear a top or jacket with structured shoulders, puffy sleeves, etc. to balance out your larger bottom half.
Rely on a form-fitting, but never tight, skirt in a non-clingy fabric.
You
can
look great in jeans. The key is to choose leg openings and back pockets to fit your figure. Here's how:
Bootcut leg openings are the most flattering jean legs of all. The slight flare balances out wider hips and fuller thighs.
Opt for a darker wash jean for the most slimming look.
Five-pocket styling looks best, but you'll want to avoid excessive embellishment on the back pockets if the size of your backside bothers you.
The longer the jeans, the longer (and thinner) your legs look. Wear bootcut jeans as long as you possibly can without having them bunch up around your legs. If you can stand them, pair jeans with high heels for a super-flattering look.



Another way to balance the bottom-heavy figure is to accentuate your top half with prints. Vertical stripes, menswear checks or plaids, florals and polka dots are all great options.

Wear a solid pant or skirt and keep jackets short (never let a jacket end right at the widest point of your hips).
If your natural waistline is thick, along with full hips and thighs, one of your best options in dresses is the empire-waist (raised waist) dress.With this silhouette, the focus is shifted to only the top third of your body because the waist falls right below the bustline. This look works best with pear-shaped women who are small-busted.
You don't need a plunging V-neck or tons of cleavage to pull this off. What you do need is added interest -- a sweetheart neckline, a halter, a knotted front -- to draw attention up and towards your face.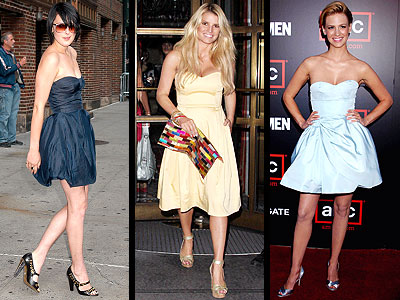 As basic as it sounds, the best way to use color to camouflage/highlight figure areas is to use contrasts.The black bottom with white top works like a dream: it brings the eye up to the lightest hue and the top half of the body.
The idea of high-cut legs on your swimsuit may make you uncomfortable, but they are a flattering way to make your legs look miles long. Here are more Do's and Don'ts for swimwear:
Don't wear boy shorts. They'll look boxy on you because they accentuate thighs.
Do choose swimwear with graphic interest -- vertical stripes, colorblocking -- strategically placed to draw the eye up.
Don't wear a teeny-weeny bikini bottom. The less fabric on bottom, the fleshier you'll look from the waist down.
flabby arms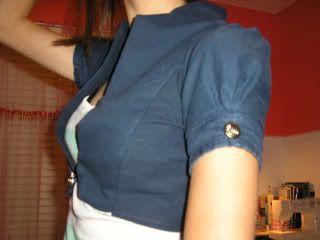 The trick is to keep the sexy element with one of the pretty sleeves that are popular right now like lantern sleeves, puff sleeves, kimono or bracelet sleeves bolero jacket.
petite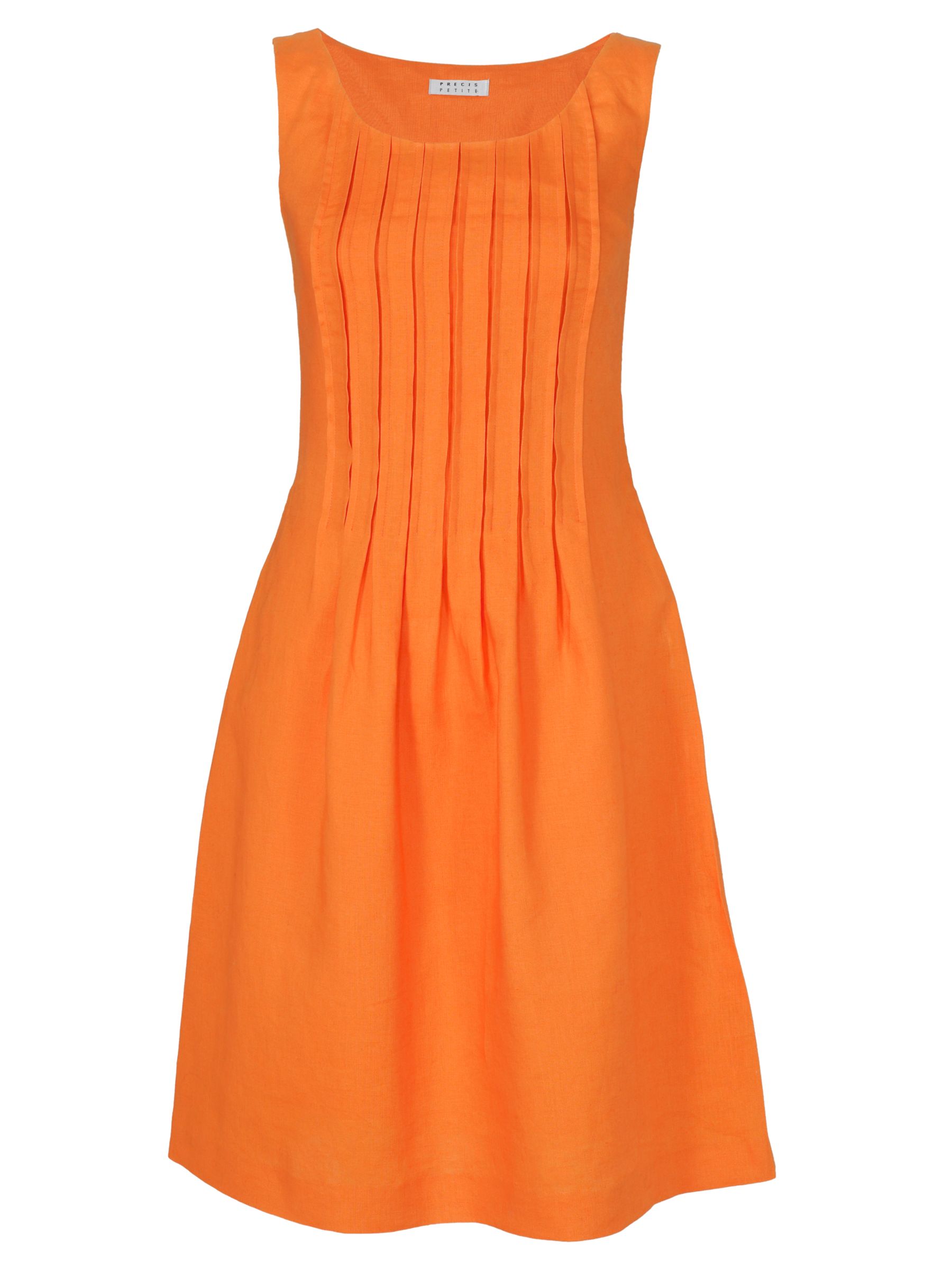 The perfect sundress for a smaller frame has lots of style. More flattery: look for a dress with a lot of shape -- here it has a round neckline and princess seaming -- and is scaled just right for your figure. Avoid too-cutesy looks (like puffed sleeves) so you won't look little girlish.
wide shoulders
You don't need to hide your upper body if you have wide shoulders. Instead, look for body-balancing details like the trendy asymmetrical neckline, like this one-shoulder style. Avoid puffy sleeves or voluminous tops paired with slim bottoms that will exaggerate your shoulder width.
thick waist
Disguise a thick waist by either raising, lowering or eliminating the waistline. This bold graphic shift works by skimming the body without defining the waist. A drop-waist dress, which hits somewhere around the hipbones, or empire waist dresses which have a raised waist are other good choices.
full bust
Balance a top-heavy figure by opting for the most flattering necklines for the full bust: the V-neck, square neck or wrap style. Look for fabrics that skim (jersey is good), but aren't clingy or too stiff. Also, avoid ornate necklines, embellished bodices and blouse on styles.
small bust
most
clothing actually hangs better
on women with smaller busts, but if you want to add more volume up top look for embellishment or fullness on the bust. This empire waist peasant dress features a gathered bodice, (flattering to most body types) and a cap sleeve which gives the illusion of a wider shoulder and more substantial upper body.
too thin
if your body lacks natural curve, add feminine presence with full ness and full prints. you can also add extra details like full sleeves, ruffles and big prints.
men's fashion tips
tall man
do's :
Wear heavier cloths and also patterns that are a bit busier, such as windowpanes and plaids, these make you look fuller and less like a toothpick. Accessorize in detail, your breast pocket should always have a handkerchief, and your shirts should have cuff links. A tall thin man's jacket shoulders should extend slightly past his natural shoulder width. Your jacket should always have at least 3 outside pockets, some sartorial experts suggest 4. A tall man's suit pants should ALWAYS be cuffed at least an inch and a half.Your suit coat's outer hip pockets should be even with the bottom button hole or slightly above, to compress the vertical line.


dont's :
Never wear tight-fitting suits, they make you appear even taller and lankier. Avoid suit jackets with thin lapels as well as bulky, built up square shoulders. Don't button your bottom button, this helps avoid the "bean pole" look. Finally, DO NOT wear your suit jacket unbuttoned, ever. You are better off, taking it off altogether. Nothing looks sloppier than that, especially for tall men, there would be so much flapping around and distracting from your face.
the heavy men
Bigger men often look for clothes that give a "slimming effect" or at least help hide the plumpness when dressing for body type.
DO'S: Dress in dark, solid or striped, 2-button single breast suits. These are great because they do not draw attention to horizontal lines or a man's bulk. You should look to emphasize height, because it draws away from the emphasis on bulk. Wear suits jackets that are cut generously around your waist. Suit pants should be worn at your natural waist(fastens at the belly button or above), this helps to lengthen the leg line(to look taller) and cover the belly. Ask a tailor about "English" pleats. Also called "forward" pleats, they face inward. These pleats hide bulk well, especially when viewed from the side, the vantage point where the stomach is most noticeable. English pleats also permit the pants legs to fall straight down from the waistband.
DONT'S: NEVER, ever, ever wear double-breasted suits. These suits make hefty men look like stuffed sausages and are out of style anyway. Their buttons attract attention to the midsection and EMPHASIZE WIDTH.
shorter men
men of shorter stature often want to wear clothes that accentuate length visually and avoid cutting the torso in half. This is easily done.
A shorter man's sleeves should ALWAYS show a bit of shirt cuff, a 1/2 inch or so. If the sleeves are too long, it give those of short stature the appearance of a little boy. Look for suits with high shoulder pads, they are a blessing for shorter men, because the elevated shoulder line and collar increase the sense of height more than anything.
Look for suit jackets that are ventless, they also make you
look taller and slimmer
. Single-breasted suit jackets whose front edges below the waist button flare outward, also lengthen the leg line, this style is called "open quarters" by top tailors.
The diminutive man should always wear his suit pants at the natural waist. This makes your legs seem longer and makes you seem taller.
To avoid looking like you're playing dress-up in dad's clothes, make sure your pants legs are just long enough to touch your shoes. As far as patterns are concerned, select patterns whose vertical(up & down) aspect dominates the horizontal(side to side) aspect, ask your clothier about herringbone patterns.
Jackets with flap less(or "besom") pockets look great on shorter men, because they look so sleek. If you are using a custom tailor, have them set the breast pocket a little higher than normal on the suit coat, and the hip pockets a tad lower, this nuance helps elongate your silhouette. Lastly, with neckwear, solids elongate the best, very discreet stripes and small patterns work nicely.
DONT'S:
Don't bother with tweeds and flannels, they are bulky and make a man look wider rather than taller. The same rules applies for plaids because they emphasize horizontal lines, in effect encouraging people's eyes to move up and down. Make it a point not to wear suit jackets that are extra long, because the extra material covers leg length, and makes a man short in stature appear even shorter. The tail of the coat should be long enough to cover the rear and no longer. Also avoid wearing overlong sleeves, it gives the illusion of being swallowed up by your clothing, and may invite a couple chuckles at your expense.
Lastly, the shorter gentleman should not wear double breasted suits. The double set of buttons on these suits make you look wider and the extra flap of cloth in front makes you seem bulkier. To top it all off, the lapels on a double-breasted suit, which come to a point above the bottom of the collar, add an unflattering pair of near-horizontal lines, which in turn makes the shorter man look bad.
muscular men
Chiseled, heavily muscled men want to find suits that accommodate their large upper physique, without making their waist and lower physique appear large as well. This is easy when dressing for your body type.
DO'S: Look for unpadded or lightly padded shoulders, others wear padding to have shoulders that look like yours, you don't need them. Adding extra will only be overkill. You have a big chest, so choose suit coats that have a bit of waist suppression(meaning that it comes inward a little bit at the bottom). That way your waist does not look as wide as your large chest. Also when dressing for your body type, try wearing smooth worsteds of solid, striped or some elongating type pattern. Two and-three button, single-breasted jackets are also very helpful.
Since it may be hard to find a good off-the-rack suit for you, dressing for body type may mean having a suit "made-to-measure." This allows you to order a suit coat that fits you in the chest and shoulders but isn't through the waist and hips; and find pants that fit you in the waist, but whose legs don't remind you of M.C. Hammer pants.

DONT'S:

Never put all your faith in "athletic cut" suits, if you find some that fit nicely, that is great. But be aware that these suits are NOT cut differently for you, they are simply paired differently, bigger jackets paired with much smaller suit pants. When truly dressing for your body type, "athletic cut" leaves something to be desired. It is absolutely imperative to avoid jackets with narrow lapels and dress shirts with tiny collars, it is a really bad look for a heavily muscled man. And of course, stay away from double-breasted suits.