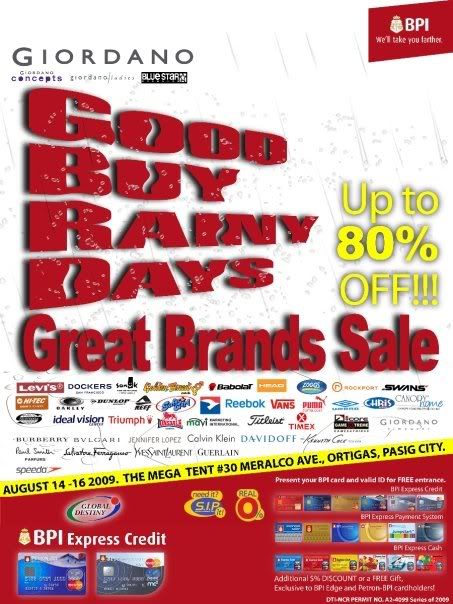 Keep your calm, girls! Here's another chance for you to enjoy BPI's Great Brands/ Big Brands sale. Start marking your calendars now, coz' BPI is again holding another thumping great brands SALE from August 14 to August 16 at Megatent. (
Gosh! My mind is already thinking about the buys.
) So..see you there!
Go wild with brands like Giordano, Giordano Concepts and Ladies, Blue Star Exchange, Levi's, Dockers, Sanuk, Golden Breed, Hi-Tec, Babbolat, Zoggs, Head, Swans, Oakley, Reef, Surfer Girl, Ideal Vision, Timex, Giordano Timewear, Chris Sports, Reebok, Puma, Vans, Lonsdale, Speedo. Enjoy your choice of fragrance from Burberry, Paul Smith, Salvatore Ferragamo, Davidoff, YSL, and many more!